When planning your wedding, there are so many categories to consider, and they all play a role in the success of your special day. Food has been the center of community life for centuries and is an important part of any event. Food is one of the things that guests will recall when they look back at your wedding reception, so you want your reception to go smoothly, the food to be amazing and the overall ambiance to be one that will leave smiles on everyone's faces. Style, presentation, and taste are so important. Making your initial catering decisions will ensure that the event is everything you imagined.
The caterer you choose may have catered events at your selected reception location before and may be able to assist you with information about serving styles that have been successful in the past. Determine the level of formality you want for your reception, so your caterer can come up with ideas to match your vision.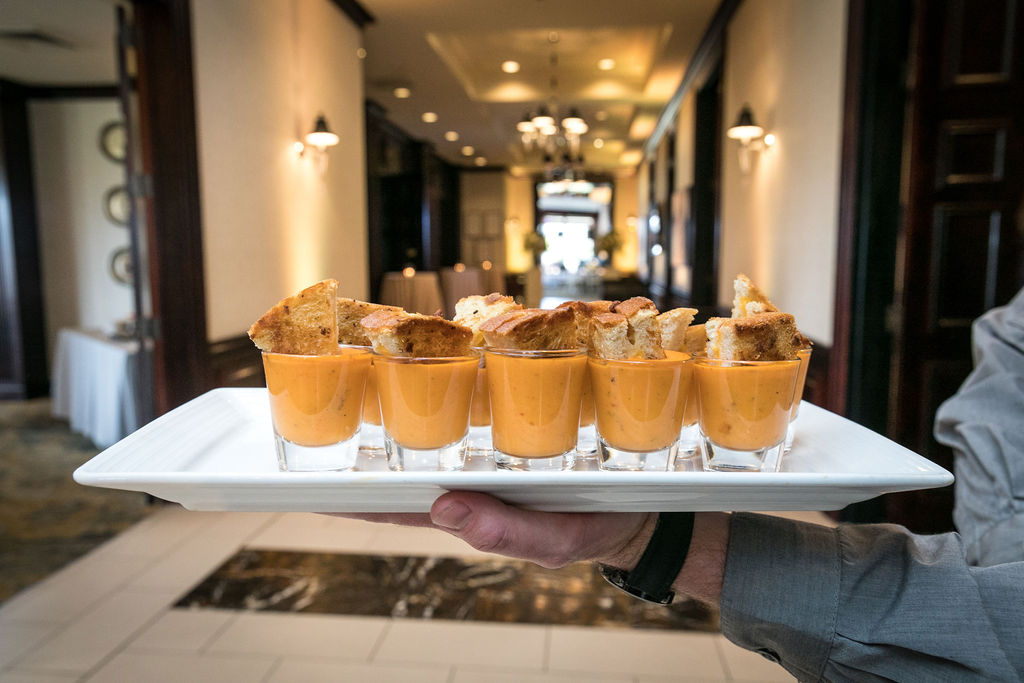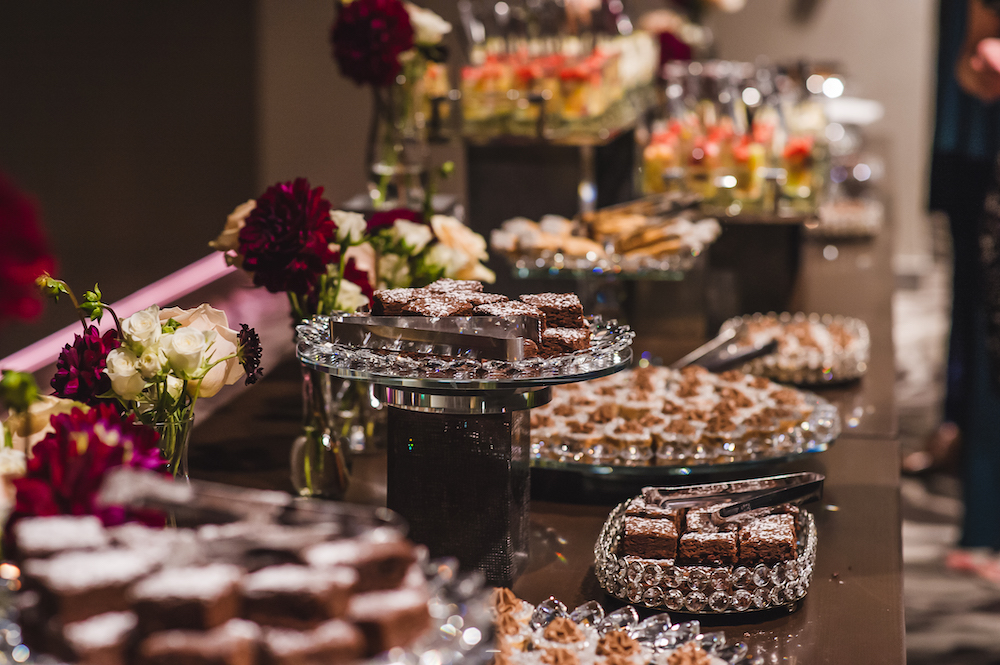 There are so many styles of food service to choose, from the traditional Seated Service to Family style service, Buffets & Food Stations. Stations can vary from the traditional, such as carved meats, side dishes (rice, potatoes, pasta) and vegetables, to the more eclectic such as sushi, poke station, flat bread station, crepes, or stir-fry. The options are endless, but keep in mind that the prices also will vary with each different option. As opposed to what many would think, buffets and food stations are not necessarily less expensive than formal sit-down meals. The caterer typically prepares more food and there is also labor involved and the rental of plates etc.
Another thing to consider is Special Meals. Remember to give the caterer information on your guests with special dietary needs. These special meals can be creative and a vegetarian plate doesn't necessarily mean a plate of steamed vegetables or pasta. You could ask the caterer for options to match the other guests' gourmet options.
Here are some questions to ask the Caterer:
Can we request a specific menu or do you work from a set menu or package?

Are you licensed to serve liquor? Can we bring our own alcohol? Rules and regulations associated with providing our own alcohol.

Is the cost of the service staff included in the price? Are we expected to tip the staff and if so, what is common?

What will the servers wear?

When is the required guaranteed number of guests due?

When is the deposit due? When is the balance due?

Have you ever catered a wedding reception at the reception site that we have selected?

Are there any extra fees for linens, corkage, rental of furniture, setup charges, bar setup?

Do you handle the cleanup and rental return?

Do you provide the wedding cake? If you serve the cake we are providing, is there a cake cutting fee?

Do you supply the linens, China, glassware, silverware?
We are here to help with myriad of details and we have decades of experience in the field of event and wedding planning.
We would love to EXCEED your expectations!
Ruth Spirer, Owner, and Lead Planner
Weddings and Events by Ruth
972-672-3163
ruth@weddingsnevents.com